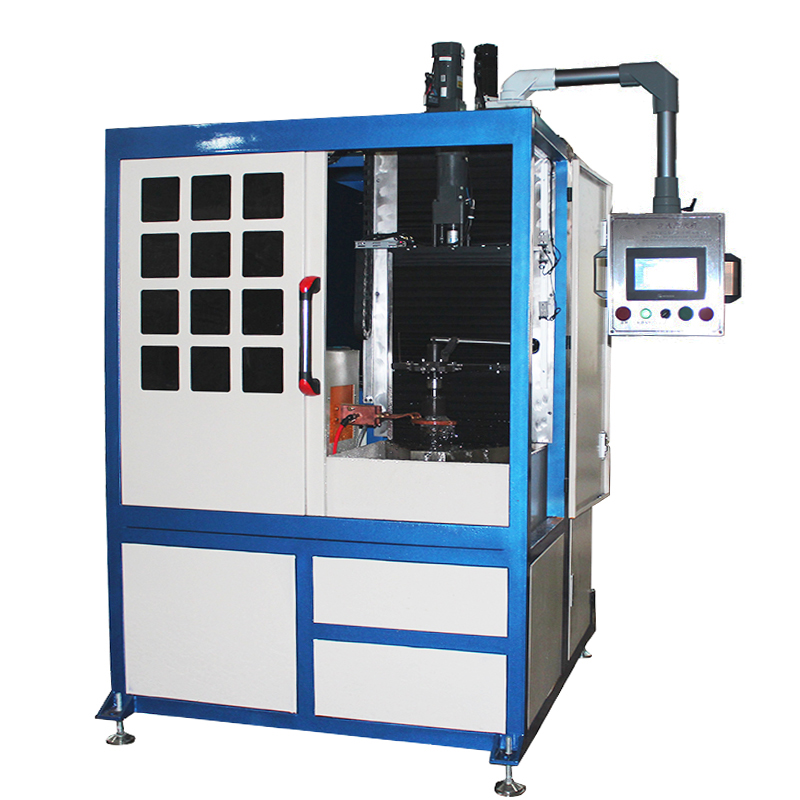 Customized induction high frequency induction hardening machine for non-standard work-piece.
>Device introduction

· Equipment name: gear automatic CNC quenching machine

· Equipment model: HT-CHJ

· Equipment power: 15-160KW

· Hardened workpiece size range:

Shaft type: φ10-300mm L: 50-1500mm

Gear type: φ20-300mm H: 10-600mm

This quenching machine is developed according to the requirements of gear quenching in the hardware industry. All processes can be fully automated, with precise positioning, high quenching accuracy, automatic loading and unloading, saving labor, stable performance, energy saving and environmental protection. Reliable choice!


| | | | |
| --- | --- | --- | --- |
| Model / Specification | HT-CH Series | Output Current | 200A-6000A |
| Oscillation frequency | 30-80KHZ | Heating speed | 100mm/sec |
| Input power supply | Three-phase 380V50Hz/60Hz | Heating power | 15-160KW on-demand matching |
| Cooling method | Water cooling | Quenching medium | Water, aqueous solution, mineral oil molten salt, molten alkali, etc. |
| Cooling water requirement | 0.6Mpa 4L/min | Quenching temperature | 100-1900°C adjustable |
>Main configuration and performance
· Lihua [gear automatic CNC quenching machine], with continuous quenching, simultaneous quenching, segmental continuous quenching, segmentation and simultaneous quenching;
· Frequency control system, servo motor drive, ball screw drive;
· It has two cooling methods: immersion liquid and spray liquid, and can be equipped with integrated quenching liquid circulation cooling system;
· Control system with CNC system or PLC touch screen, no programming, convenient operation, real-time display, can store 126 programs, focus heating→positioning→spraying and time control on machine tool control system, easily realize workpiece positioning, scanning, and pass PLC
Connect with the power supply to achieve fully automated production;
· Repeated positioning accuracy, small size, light weight and easy maintenance;
· Customized semi-automatic/automatic induction hardening machine according to customer's needs.


> Scope of application: induction hardening and tempering of various shafts, gears and disc-shaped parts.
Quenching machine tool
Mainly by the quenching machine, medium frequency power supply ( high frequency power, ultrasonic frequency power source, ultra-high frequency power ), cooling device of three parts; wherein the high frequency quenching machine consists of a machine body, upper and lower loading and clamping mechanism, a clamping and rotating mechanism, the quenching transformer and resonant tank, cooling system, quenching liquid circulation system, electrical control system, quenching the machine is generally a single-station ( small diameter workpiece can be used when the double-station quenching machine ); quenching machine from the structure with vertical and horizontal two categories, users can choose according to quenching quenching machine tool, for special parts or special technology, according to the heating requirements of design and manufacture of special quenching machine tool. Use by quenching machine tool and medium frequency power supply ( high frequency power, ultrasonic frequency power source, ultra-high frequency power), achieved by PLC program control of induction hardening process, commonly
used in gear, bearing, shaft parts, valve, cylinder and all kinds of mechanical parts quenching and heat treatment.
Common quenching device type
The outer circle quenching series: on all types of shaft, rod, tube, the circular parts ( such as bearings, valves etc.)
the outer circle surface of whole or partial quenching.
Inner circle quenching series: various types of pipes, mechanical parts of the inner circle for the whole or partial
quenching, such as cylinder, shaft sleeve.
Terminal (End), surface quenching series: on the mechanical parts of the face, flat part of whole or partial quenching.
The special-shaped parts quenching series: for special-shaped parts of the surface of a whole or partial quenching.
Large parts quenching series: large volume,heavy especially big parts of the whole or partial quenching, such as marinegear, dam sluice rail, large oil pipeline etc..
Die quenching series: mould surface induction quenching machine tool is applicable to a large automobile panel die and largenon-circular space curved surface parts of the heat treatment of the numericalcontrol technology and equipment
Product shelf time : 2018-07-31,Last updated time is : 2018-07-31 11:15:18