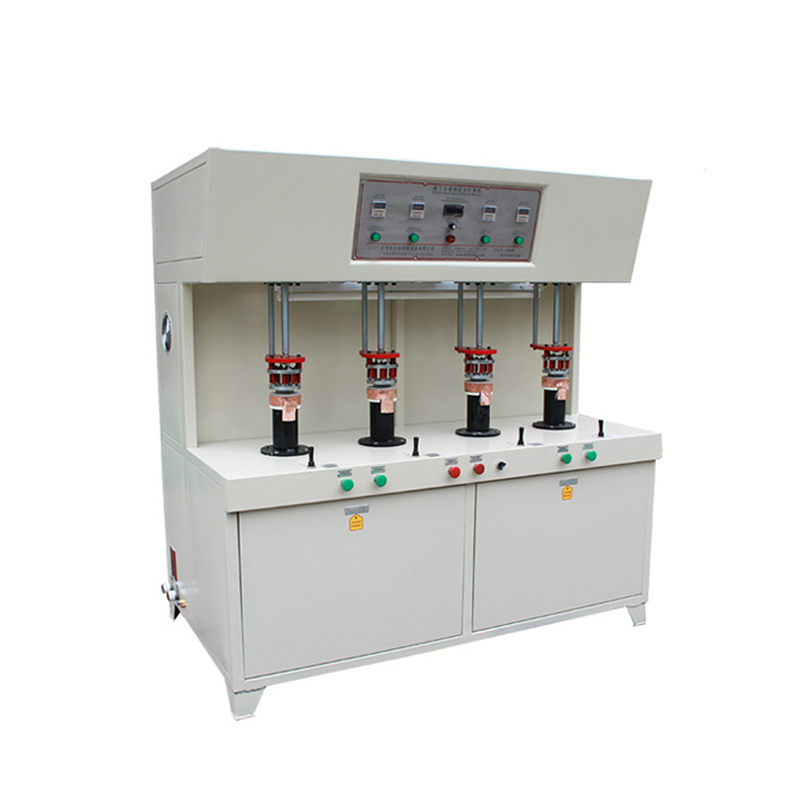 4-station induction
brazing
machine equipment for stainless steel kettle
High frequency brazing machine as a new welding method has its advantages:
Energy saving and environmental protection
High welding efficiency
High quality welding: welding surface smooth, consistent welding quality, improve the overall quality of welding products
Simple and easy operation, a few seconds to learn
Low manufacturing cost, is about the traditional oxidation welding 1 / 4.
Equipment configuration: dual power supply 25KW, 30KW, 40KW, 60KW and other models;
It can be equipped with an infrared system and a robot to achieve unmanned production, which greatly saves labor costs for the enterprise;
Working process: assembly - preheating - welding - packing - unloading;
Performance: fast heating, high production efficiency, stable operation, continuous operation for 24 hours, high welding quality;
Control mode: automatic and manual welding function, easy to operate and practical;
Applicability: The preference for products with large yields.
Model specifications
LH-6QHJ-25
LH-6QHJ-30
LH-6QHJ-40
LH-6QHJ-60
Power
2*25KW
2*30KW
2*40KW
2*60KW
Cooling method
water cooling
water cooling
water cooling
water cooling
Weight
500KG
550KG
600KG
650KG
Input power
200-1200A
400-1500A
400-1800A
400-2400A
Dimensions
1550*1700*2200
1550*1700*2200
1550*1700*2200
1550*1700*2200
Working voltage
Three-phase 380V 50-60HZ
Three-phase 380V 50-60HZ
Three-phase 380V 50-60HZ
Three-phase 380V 50-60HZ
Brazing size
≤ φ130mm
≤ φ140mm
≤ φ180mm
≤ φ250mm
Aluminum plate thickness
1.5-2mm
1.5-2mm
1.5-2mm
1.5-2mm
Application range:
It is suitable for brazing of electric heating plate, such as heating plate, electric kettle, coffee pot, soy milk bucket, frying pan, wok, cooking machine, electric iron, noodle pot, etc. in small household appliance industry.
LiHua High Frequency induction heating machine adopts the latest MOSFET, IGBT power units and frequency conversion control techniques with high efficiency, low energy consumption and higher output power.
With constant current and constant power control function to greatly optimize the heating process of metals, realize efficient and fast heating, and fully exert the superiority of the products.
Power consumption is half of traditional electron tube high frequency induction heating equipments under the same conditions.
With 满负荷 load design, can work for continuous 24-hour a day. Infrared temperature detector can be equipped to realize the automatic control of temperature, improve heating quality and simplify manual operation.
With heating-insulating-cooling three stages function setting, the heating and insulating time required can be get to accommodate to the batch and repeated heating situations.
With multiple status display of overflow, over voltage, low water, phase failure and load malfunction, providing higher reliability and sustainability.
Select power supply according to the power and frequency. The higher the frequency, the shallower the heating depth, and the lower the frequency, the better the diathermancy.
Application showcase
Product shelf time : 2018-07-30,Last updated time is : 2018-07-30 15:55:15