crucible (chinese GAN GUO 坩埚)
crucible S
melting
furnace is a simple smelting special equipment. It is made of different raw materials such as high-purity graphite and cast iron. The equipment is not only simple in structure, but also low in cost and fast in production. It can be used as fuel for gas or coke. To heat.
Oven
The crucible is a very simple melting equipment suitable for melting non-ferrous metals such as copper, aluminum and alloys that do not have a very high melting point. In such a furnace, the alloy is melted in the crucible, and the heat is transferred to the charge, and the combustion products of the furnace are not directly contacted, so the chemical composition of the alloy is substantially not affected by the furnace gas, and the temperature of the alloy liquid is evenly distributed. It is also its main advantage. Its shortcomings are low thermal efficiency, high fuel consumption, low storage capacity and poor labor conditions.
Place the metal in a container called crucible during smelting. The crucible is placed in a furnace and heated with diesel, heavy oil, gas or coke. According to different requirements, crucible can be made of different materials such as high-purity graphite, refractory clay and cast iron. The furnace body has pit type, fixed type and rotary type. There is also a resistance furnace, which is generally small in storage and is used in laboratories.
crucible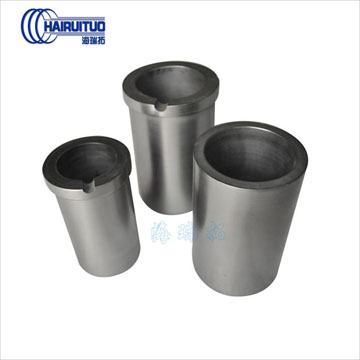 crucible Smelting furnace structure is simple
The furnace has simple structure, small investment and fast production, and is widely used in the foundry of small and medium-sized non-ferrous alloy processing plants and machine manufacturers. However, the heat utilization rate of the crucible furnace is low, the output is small, the labor conditions are poor, and mass production is not applicable.
The oven has always been a special equipment for melting copper alloys. At present, the proportion of furnaces for melting copper alloys is large. The heat source of smelting, in ancient times, used charcoal and now it is heavy oil, gas, electricity, and coke. Recently, in order to save energy and protect the environment, and to improve efficiency, some heat sources have also been changed from heavy oil to gas, and some have been changed to induction furnaces.
The same trend is also found in furnaces for melting light alloys such as Al, Zn, and the like. Large-scale smelting equipment has been converted to reverberatory furnaces, rotary furnaces, induction furnaces, etc., and small-scale production or small-scale holding furnaces for casting are still in the furnace. Due to the improvement of the heating method, the future development trend is to use clean light oil and gas; the small holding furnace may achieve energy saving through the ceramic fiber lining and the multi-layer furnace wall structure.
crucible Smelting furnace The only disadvantage of this special equipment is its low thermal efficiency and high fuel consumption.
crucible Use the high-frequency
heating machine
or the medium-frequency induction heating equipment power supply produced by Haituo. It can eliminate the above-mentioned environmental pollution problems caused by heavy oil, gas, electricity and coke heating problems, and achieve new features such as no open flame, no pollution and low energy consumption. Widely used in the traditional jewelry processing industry.
Dongguan Haituo Electromechanical Equipment Co., Ltd. is a manufacturer of medium and high frequency induction heating equipment developed earlier in China. It is a high-tech private enterprise specializing in R&D, design, manufacturing, sales and service. enterprise. With a strong technical R & D team, experienced, customized automatic induction heating equipment according to the workpiece and process, free to provide customers with personalized process solutions. As well as a comprehensive after-sales service system in various parts of the country, we have won the trust of many famous domestic enterprises, and have the experience of providing quality products and services to them. Welcome to visit the company.