High-frequency
quenching
can produce different metal parts, as well as many different types of parts. High-frequency quenching has high precision and various parts manufacturing conditions. Compared with traditional
quenching equipment
, Haituo electromechanical high-frequency quenching will have a lot of work output. Improved, the finished product is also very sophisticated.
The workpiece is placed in an inductor wound with a hollow copper tube, and after passing through an intermediate frequency or high frequency alternating current, an induced current of the same frequency is formed on the surface of the workpiece, and the surface or part of the part is rapidly heated (the temperature is raised in a few seconds). 800 ~ 1000 ° C, the heart is still close to room temperature) After a few seconds, immediately spray (dip) water cooling (or spray oil cooling) to complete the immersion work, so that the workpiece surface or local to meet the corresponding hardness requirements.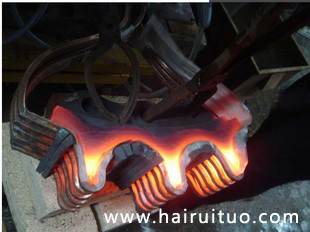 The main method of high frequency quenching:
Induction heating surface quenching (high frequency, medium frequency, power frequency), flame heating surface quenching, electrical contact heating surface quenching, Haituo electromechanical electrolyte heating surface quenching, laser heating surface quenching, electron beam heating surface quenching.
Haituo electromechanical rapid heating combined with immediate quenching cooling.
By rapid heating, the surface of the steel to be processed reaches the quenching temperature, and the heat is transferred to the center without cooling. The surface layer is hardened to martensite, and the center is still unquenched. The original plasticity and toughness are better (or positive). Fire and tempering) organization.
Frequency selection:
The relationship between the depth δ (mm) of the induced current flowing into the surface layer of the workpiece at room temperature and the current frequency f (HZ) is such that the frequency increases, the current penetration depth decreases, and the hardened layer decreases.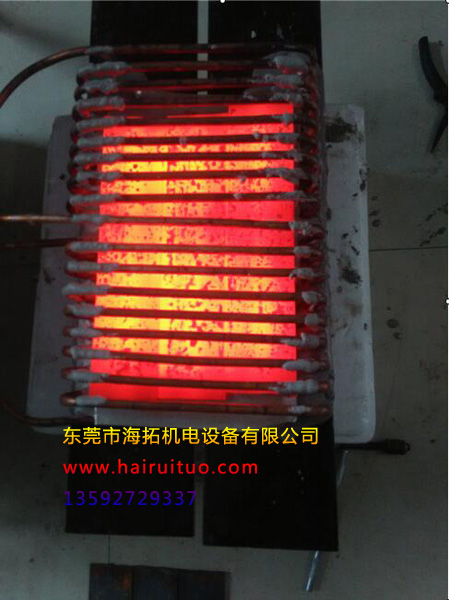 Commonly used current frequencies are:
1, high-frequency heating: 100 ~ 500KHZ, commonly used 200 ~ 300KHZ, for electronic tube high-frequency heating, hardened layer depth of 0.5 ~ 2.5mm, suitable for small and medium-sized parts.
2, medium frequency heating: current frequency is 500 ~ 10000HZ, commonly used 2500 ~ 8000HZ, Haituo electromechanical power supply equipment is mechanical medium frequency heating device or thyristor intermediate frequency generator. The depth of the hardened layer is 2 to 10 mm. Suitable for shafts with large diameters, medium and large gears, etc.
3. Power frequency heating: The current frequency is 50HZ. It adopts mechanical power frequency heating power supply equipment, and the hardened layer depth can reach 10~20mm, which is suitable for surface quenching of large diameter workpieces.
There are many kinds of workpieces manufactured by high-frequency quenching, and different workpiece requirements are required to configure the high-frequency quenching equipment, so that the equipment and the workpiece are highly matched, so that the quality and output can be excellent.