The function and characteristics of the high frequency heating control panel
The high frequency heater system consists of a high frequency heater control board, a power board and a heating coil. The high-frequency
heating machine
converts the industrial frequency (50HZ) alternating current into an alternating current whose working frequency is generally 1KHZ to hundreds of KHZ, and even higher operating frequency, fully utilizing the principle of electromagnetic induction, and transforming the electromagnetic field into the same working frequency through the induction coil. Acting on the body of metal material in the electromagnetic field. Making full use of the eddy current effect, an induced rotating current (ie, eddy current) proportional to the strength of the magnetic field is formed in the metal material object. The rotating current is converted into thermal energy by means of a resistor in the metal object. At the same time, there are hysteresis effect, skin effect, edge effect, etc., and a small amount of heat can also be formed. Together, the temperature of the metal material object is extremely increased, and the purpose of rapid heating is achieved.
Main functions and features:
The whole system is controlled by DSP, which can realize power factor correction (APFC), constant output power control, temperature control, working frequency tracking, zero output power start, working voltage, current closed loop control; fault detection and protection circuit for water shortage, overheating, over Real-time monitoring of faults such as pressure and overcurrent, and alarm signal display.
· Control can be divided into system automatic and manual, using liquid crystal and LED synchronous display;
·Automatic identification of product workpieces, which can be set freely for different loads;
· Heating time control, whether manual or system automatic, can set the heating time, automatic control can set heating time and holding time.
·Using the working frequency range, it is suitable for both medium frequency (1K-10K) and high frequency (10K-200K) high frequency heating machines. It starts the working frequency and the highest working frequency, and the minimum working frequency can be set.
·The operating frequency system is automatically tracked, which can automatically track the resonant frequency system of the current resonant mode power supply, even if the grid fluctuations, ensure that the output current or output power remains unchanged, and ensure that the IGBT always works at zero under any working condition. In the current switch (ZCS) state, the IGBT is in the best working condition, the power consumption is the smallest, and the whole machine is the most efficient.
The high frequency heater control panel is really important. What are the characteristics?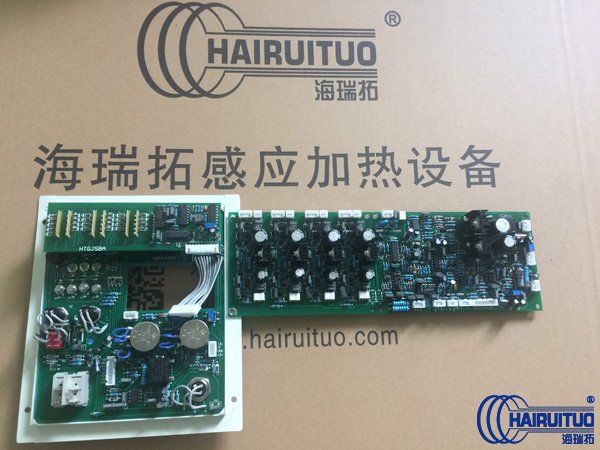 High frequency heater control panel
· Zero output power start, zero operating voltage output for start and standby, no need for dummy load support.
· The fault detection function is complete, and the cause of the fault is displayed on the display.
·Extension interface, including input and output ports are reserved, can be arranged according to needs, is an isolated switch, which is conducive to the user's expansion of functions.
Make full use of the matching IGBT driver, as long as the connection is correct, it can work with simple adjustment. (can choose the driver board)