The sucker rod is a high-strength metal rod used for oil extraction in oilfield oil wells. Due to the high work measurement intensity, it has very strict requirements on its own characteristics, and the corresponding
quenching
link is also a very important part. The sucker rod quenching furnace production line mainly consists of two major parts, including the power part and the mechanical part.
Induction heating surface quenching has the advantages of good surface quality, small brittleness, non-oxidative decarburization and small deformation of quenching surface, so the induction heating equipment of sucker rod quenching furnace has been widely used in metal surface heat treatment.
Fully automatic sucker rod quenching furnace equipment: The whole set of equipment consists of: intermediate frequency power supply, capacitor cabinet, sensor, automatic feeding rack, unloading rack and control cabinet. The intermediate frequency power supply adopts a split structure design, and the power cabinet is a GGD standard gauge. The capacitive cabinet and inductor are compact in design and increase heating efficiency. Reasonable control of the sensor and the quenching circle Curie shortens the time that the red hot bar is exposed to the air, reduces the scale of the bar, and reduces energy consumption. The speed of the transmission mechanism is automatically controlled according to the process parameters set by the user. When there is no workpiece in the sucker rod quenching furnace sensor, the automatic control system automatically reduces the output power of the middle evaluation power supply; the workpiece enters the sensor, and the automatic control system automatically increases the output power of the intermediate frequency power supply.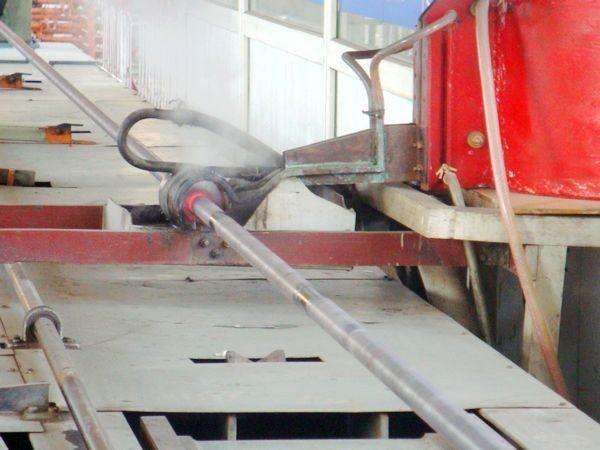 Dongguan Haituo Electromechanical Equipment Manufacturing Co., Ltd. specializes in the production of sucker rod quenching furnaces. It has been engaged in induction heating for more than 10 years and has rich experience. It provides technical solutions for the problems encountered by customers and is deeply welcomed and trusted by customers.
Dongguan Haituo Electromechanical Equipment Co., Ltd. is a manufacturer of medium and high frequency induction heating equipment developed earlier in China. It is a private enterprise engaged in the research and development, design, manufacturing, sales and service of many experts specializing in induction heating equipment. With a strong technical R & D team, experienced, customized automatic induction heating equipment according to the workpiece and process, free to provide customers with personalized process solutions. As well as a comprehensive after-sales service system in various regions of the country, we have won the trust of many domestic enterprises, and have provided them with experience in quality products and services. Welcome to visit the company.