Medium frequency induction furnace
The medium frequency induction furnace refers to an induction furnace with a working frequency in the range of 150 to 10000 Hz, and has the advantages of high
melting
speed, high production efficiency, strong adaptability, flexible use, good electromagnetic stirring effect, convenient starting operation, and the like.
An induction furnace having a frequency in the range of 150 to 10,000 Hz is called an intermediate frequency induction furnace. The medium frequency induction furnace is a special smelting equipment suitable for smelting high quality steel and alloy. It has the advantages of fast melting speed, high production efficiency, strong adaptability, flexible use, good electromagnetic stirring effect, convenient starting operation, and molten steel covered by slag. The advantages of steel liquid pollution).
The complete set of medium frequency induction furnace includes: power supply and electrical control part, furnace part, transmission and water cooling system.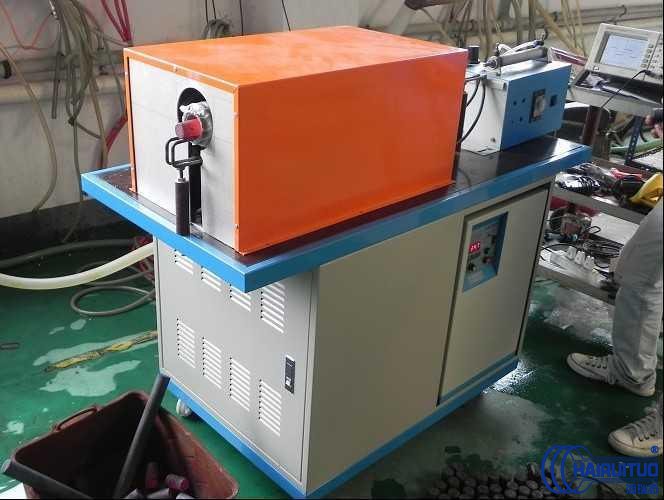 Medium frequency induction furnace
Micro-medium frequency induction furnace features
(1) High melting efficiency, good power saving effect, compact structure and strong overload capability.
(2) The temperature around the furnace is low, the smoke is small, and the working environment is good.
(3) The operation process is simple and the smelting operation is reliable.
(4) The metal composition is uniform.
(5) The melting temperature is fast, the furnace temperature is easy to control, and the production efficiency is high.
(6) The furnace has high utilization rate and convenient replacement.
(7) The long arc yoke shields the magnetic flux leakage and reduces the external magnetic reluctance, the magnetic flux leakage at both ends of the shielding coil, and the inner side and the outer wall of the yoke cross section are seamlessly adhered to each other, thereby increasing the effective magnetic permeability area and making the coil Get better support. The unique forward and reverse coils greatly increase the efficiency of the system. Fast heating speed, high production efficiency, less oxidative decarburization, saving material and forging die cost.
Advantages of miniature medium frequency induction furnace
1. No need for residual melt and large frit, it can be melted at any time to reduce power consumption.
2. Each time the furnace is discharged, all or part of the melt can be dumped, so the operation flexibility is large.
3, power is convenient, can adapt to the different requirements of power when melting, heat preservation and oven.
4. Three-phase balance of power frequency input terminal, it is not necessary to set LC three-phase balance device like power frequency furnace.
5. Under the same capacity, the input power of the intermediate frequency furnace is high, which can be 2 to 3 times of the power frequency furnace, thereby greatly improving the melting rate of the furnace and reducing the power consumption.
6. The operating frequency follows the change of the resonant frequency of the load circuit, and automatically maintains the load circuit with a high power factor. It does not have to be adjusted by increasing or decreasing the load capacitance like the power frequency furnace.