Why use induction heat treatment technology?
In the metal heat treatment industry, traditional resistance furnaces and oil burners are still in use by some companies. However, some work, such as the drive wheels used in construction machinery such as bulldozers and excavators, have certain requirements on the mechanical properties of the various parts of the workpiece, in addition to the specific requirements for the material. The tip and ring gear are high in hardness to ensure high wear resistance, while the hub part requires good mechanical properties and low hardness to ensure its toughness and cutting performance. It is treated with an oil burner or an electric resistance furnace. The whole is hard, or the whole is very soft and can't meet the process requirements. Therefore, it is necessary to use an intermediate frequency induction heating device to inductively quench the drive wheel.
As long as the heating time and heating power are properly controlled, the temperature distribution is appropriate, but if there is heat, there is no breakage. Since the workpiece is large, it is inevitable that the upper and lower sides will be deviated when placed in the inductor. Therefore, if the workpiece can be heated in a slow rotation state, the temperature may be more uniform and the effect is better.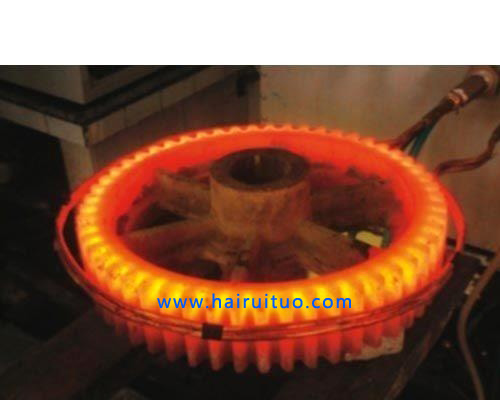 Advantages of induction heating
quenching
:
(1) The intermediate frequency induction heating quenching solves the problem that the soft and hard encountered in the original production process can not be taken into consideration, and improves the product quality. The drive wheel is hardened and deep and durable.
(2) The machining productivity is increased by 3 to 4 times; the machining loss of the machining is greatly reduced.
(3) Saving energy. The effect of energy saving by induction heating is obvious.
(4) Increased equipment utilization, multi-purpose for one machine. It is very convenient and flexible for mass production, which is of great significance to the manufacturer.
Dongguan Haituo Electromechanical Equipment Co., Ltd. is a manufacturer of medium and high frequency induction heating equipment developed earlier in China. It is a private enterprise engaged in the research and development, design, manufacturing, sales and service of many experts specializing in induction heating equipment. With a strong technical R & D team, experienced, customized automatic induction heating equipment according to the workpiece and process, free to provide customers with personalized process solutions. As well as a more comprehensive after-sales service system in various regions of the country, we have won the trust of many domestic enterprises, and have the experience of providing them with quality products and services. Welcome to visit the company.