Our medium frequency induction hardening equipment manufactured by Haitu uses precise sensors or electromagnetic induction coils and controllable current voltage and oscillation frequency to accurately control the
quenching
depth, which is usually suitable for metal surface quenching. All mechanical transmission, novel design concept, beautiful structure, small size, complete functions, suitable for use with the company's intermediate frequency power supply equipment can fully realize automatic control.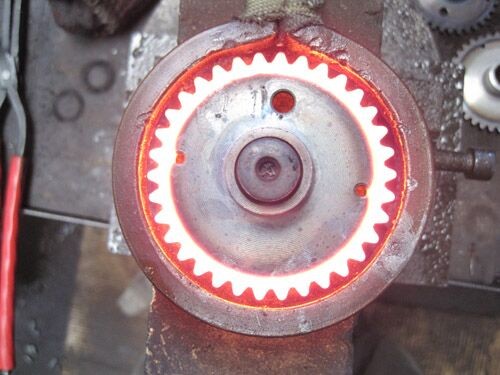 Main features of medium frequency induction hardening equipment:
(1) quenching cabinet-type main structure, electrical equipment and water-cooling circulation system are installed in the cabinet. The front panel of the cabinet is equipped with indicator light panel and control switch button. The built-in water-cooling height is suitable for practical operation;
(2) Ferrite quenching inverter transformer, the circuit is simple and clear;
(3) The intermediate frequency compensation capacitor uses a knife switch to adjust the capacitance;
(4) The intermediate frequency electromagnetic contactor is arranged outside the equipment to prevent the vibration of the main cabinet;
(5) The micro-process control work process can be preheated and cooled.
The medium frequency induction hardening equipment produced by Dongguan Haituo Electromechanical Equipment Co., Ltd. is widely used for forging heating: suitable for bar, round steel, square steel, steel plate for heat transfer, temperature compensation, blue quenching, online heating, local heating, metal Composite material forging on the line (such as precision forging of gears, semi-shaft connecting rods, bearings, etc.), extrusion, hot rolling, pre-shear heating, spray heating, thermal assembly, and overall quenching, quenching, annealing, and heat treatment of metal composites Tempering, etc.
Combining nearly 10 years of market service experience, we have launched a lifelong technical service project: The Haituo technical team provides users with a lifetime, free and continuous talent development plan. We provide curriculum design from the perspective of equipment selection, energy-saving use, equipment maintenance and repair, and common troubleshooting, and provide users with special-purpose talents for medium-frequency induction furnaces.
Dongguan Haituo Electromechanical Equipment Co., Ltd. has a set of fast and intimate modern after-sales service system, which aims to provide users with worry-free, money-saving and labor-saving zero-distance after-sales service. We provide users with more than one-to-one one-to-one. On-site engineer services, including high-quality and high-quality supply of international and domestic first-line brand electronic components.
The core electronic components of Haitu's equipment are selected from first-class well-known brands, and a strict supplier access mechanism is created. At the same time, a strict quality inspection system for purchased parts is created, and each installed electronic component is created with a circulation card. Ensure that the quality of each electronic component installed is controllable and traceable.