Continuous innovation in technology and continuous improvement in technology. Dongguan Haituo Electromechanical Equipment Manufacturing Co., Ltd. introduced advanced induction heating technology from Germany and the United Kingdom, and established its own medium frequency induction heating equipment, which has been widely used in the machinery industry.
Induction heating equipment
plays a huge role in the mechanical parts processing industry. Haituo electromechanical induction hardening equipment is used in
quenching
, diathermy, annealing,
welding
,
melting
, strict process requirements, rigorous scientific research spirit, serious academic attitude, innovative technology, and training of high-quality service team. The medium frequency induction heating equipment has the advantages of high production efficiency, low energy consumption, easy realization of automatic production, less pollution and safety, and the application is increasingly widespread.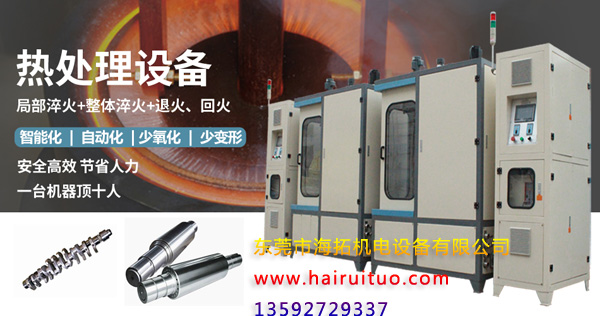 In industrial machinery quenching, improve the hardness and wear resistance of metal workpieces, various tools, molds, gauges and parts that require surface wear resistance (such as: gears, rolling wheels, carburizing and other parts). Through the combination of quenching and tempering at different temperatures, the strength, toughness and fatigue of the metal can be improved. The Haituo electromechanical medium frequency induction heating device makes the quenching process more skilled and perfect. Important parts in machinery, especially those used in the automotive, mining and petroleum industries, are almost quenched. In order to meet the technical requirements of various parts, various quenching processes have been developed. Induction heating can automatically control the thickness or diameter of the workpiece, or the whole part can be freely mastered, and the brand induction heating equipment is energy-saving and environmentally friendly, safe and reliable.
The higher the quality requirements of mechanical parts, the stricter the technical requirements of the mechanical equipment for production and processing, and the Haituo electromechanical induction hardening equipment in auto parts and motorcycle parts. Tractor parts, construction machinery parts, mining machinery parts. Textile machinery parts, construction machinery parts, hardware tools and other aspects of heat treatment technology is first-class, quenching process is mature, technology is guaranteed. I believe that Haituo Electromechanical is to believe in technology. Haituo Electromechanical Co., Ltd. is willing to work together with you to create benefits and achieve a win-win situation!
Dongguan Haituo Electromechanical Equipment Co., Ltd. is a manufacturer of medium and high frequency induction heating equipment developed earlier in China. It is a private enterprise engaged in the research and development, design, manufacturing, sales and service of many experts specializing in induction heating equipment. With a strong technical R & D team, experienced, customized automatic induction heating equipment according to the workpiece and process, free to provide customers with personalized process solutions. As well as a more comprehensive after-sales service system in various regions of the country, we have won the trust of many domestic enterprises, and have the experience of providing them with quality products and services. Welcome to visit the company.