The sucker rod
quenching
system adopts the control with PLC as the core, and adopts the frequency conversion speed regulation composed of the open loop system to control the speed of the transfer, the infrared photoelectric device to detect, the fault display composed of the signal light, and the speed display composed of the light emitting diode. A control system with good performance, low failure rate, low cost and high reliability has been formed. This system has completed the complicated process of sucker rod quenching, and the performance index of H rod meets the requirements.
System performance characteristics:
1. Using PLC as logic control, it shows its superiority in debugging and process parameter adjustment. If the process requirements change, simply change the program to achieve the purpose of changing the process parameters. Since the sucker rod
quenching equipment
we developed is not available in China, all the parameters are tested and determined on the production line, so that the produced H-bar can meet the requirements of various performance indicators.
2. Using the frequency converter as the speed control actuator, the given part is modified so that the speed controlled by the PLC output point can reach 43 kinds, which satisfies the requirements of the process speed.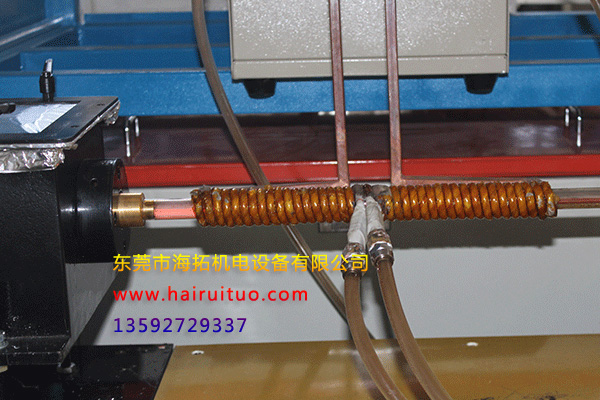 3. Infrared optoelectronic devices are used to detect the head and tail, which reduces interference and reduces costs.
4. Control the induction coil so that the two variable diameter portions are quenched and not melted, thus ensuring the continuity, depth and hardness of the quenched layer.
5. Fast transmission control is adopted, which reduces the waiting time between the two rods and improves the quenching production efficiency of the sucker rod.
Dongguan Haituo Electromechanical Equipment Co., Ltd. is a manufacturer of medium and high frequency induction heating equipment developed earlier in China. It is a private enterprise engaged in the research and development, design, manufacturing, sales and service of many experts specializing in induction heating equipment. With a strong technical R & D team, experienced, customized automatic induction heating equipment according to the workpiece and process, free to provide customers with personalized process solutions. As well as a comprehensive after-sales service system in various regions of the country, we have won the trust of many domestic enterprises, and have provided them with experience in quality products and services. Welcome to visit the company.