High frequency
brazing
equipment configuration
Dual power supply 25KW, 30KW, 40KW, 60KW and other models;
It can be equipped with an infrared system and a robot to achieve unmanned production, which greatly saves labor costs for the enterprise;
Working process: loading - preheating -
welding
- holding pressure - unloading;
Performance: fast heating, high production efficiency, stable operation, continuous operation for 24 hours, high welding quality;
Control method: automatic and manual welding function, easy to operate and practical;
Applicability: The preference for products with large yields.
It is suitable for brazing of electric heating pans such as heating plate, electric kettle, coffee pot, soy milk bucket, frying pan, wok, cooking machine, electric iron, noodle pot, etc. in small household appliance industry.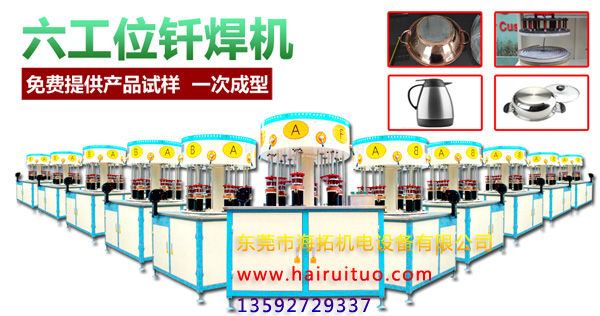 The series of high-frequency brazing machines manufactured by our company are stable and reliable in quality. They are the early manufacturers of brazing equipment in China and enjoy high reputation in the industry of producing household electrical appliances. The new generation of high-frequency double-bottom brazing machine officially adopts this new high-frequency double-bottom brazing technology, combined with the principle of high-frequency induction heating, to special equipment for welding various products in the home appliance industry.
The high-frequency brazing machine has excellent quality, humanized design and simple operation. It does not require professional welding workers. After simple training, it can be operated on the machine. According to the current state of the workpiece being processed, timely and precise automatic control can be carried out. Through analog or digital circuit processing, the power or frequency is adjusted to automatically adjust the workpiece heating temperature or depth to meet the process requirements. Induction heating adjustment is relatively fine, usually by adjusting the phase shift, pulse duty cycle and other parameters to adjust the heating power. Once the heating temperature is determined according to the process requirements, it will be kept at this temperature due to its own negative feedback. Achieve constant power control. The temperature uniformity is good, the temperature difference can be controlled at 1%, and the product quality and the pass rate are improved.
Dongguan Haituo Electromechanical Equipment Co., Ltd. is a manufacturer of medium and high frequency induction heating equipment developed earlier in China. It is a private enterprise engaged in the research and development, design, manufacturing, sales and service of many experts specializing in induction heating equipment. With a strong technical R & D team, experienced, customized automatic induction heating equipment according to the workpiece and process, free to provide customers with personalized process solutions. As well as a more comprehensive after-sales service system in various regions of the country, we have won the trust of many domestic enterprises, and have the experience of providing them with quality products and services. Welcome to visit the company.