china haituo thin steel rod
quenching
heat treatment furnace manufacturer
The working process of the thin steel rod quenching heat treatment furnace includes a storage rack, a quenching feeding machine, a quenching heating module, a quenching and discharging machine, a straightening machine, a water spray cooling system, a tempering feeding machine, a tempering heating module, a heat preservation module, The composition of tempering and discharging machinery, unloading frame, etc., adopts rational human-machine interface, PLC, industrial computer automatic control, reaching the same level in China, and has been praised and promoted by the coal mine equipment management department.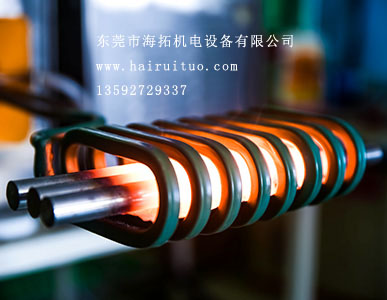 The steel bar quenching heat treatment furnace has a tension detecting and controlling device, so that the steel bar is heated under a constant micro tension condition, and the product has a very obvious influence on the quality of the product. The production line adopts a high-precision non-contact infrared thermometer. It also has automatic control of closed-loop control of quenching and tempering temperature to ensure the stability of product quality.
Dongguan Haituo Electromechanical Manufacturing has completed the case of more than 100 fine steel bar quenching heat treatment furnaces. The technical strength is professional and reliable, and the production base is fully equipped. Welcome to visit and guide!