Intermediate frequency furnace
It is a power supply device that converts the power frequency 50HZ alternating current into an intermediate frequency (300HZ or more to 1000HZ), converts the three-phase power frequency alternating current into a direct current, and then converts the direct current into an adjustable intermediate frequency current, which is supplied by the capacitor and the induction. The intermediate frequency alternating current flowing in the coil generates high-density magnetic lines in the induction coil, and cuts the metal material contained in the induction coil to generate a large eddy current in the metal material.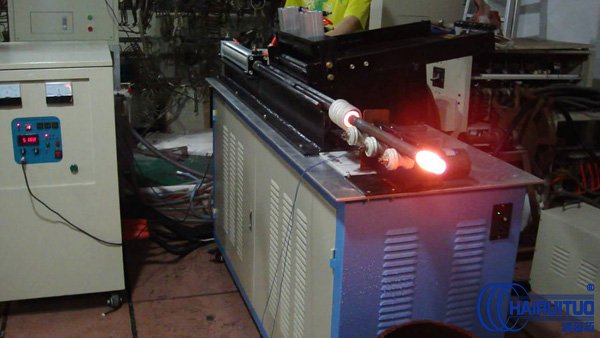 2. What is the working principle of the intermediate frequency furnace?
The intermediate frequency furnace is mainly composed of a ruthenium made of refractory material in the power source, the induction coil and the induction coil. The crucible contains metal charge, which is equivalent to the secondary winding of the transformer. When the induction coil is connected to the AC power source, an alternating magnetic field is generated in the induction coil, and the magnetic flux cuts the metal charge in the crucible, and an induced electromotive force is generated in the furnace. Since the charge itself forms a closed loop, the secondary winding is characterized by only one turn and is closed. Therefore, an induced current is simultaneously generated in the charge, and when the induced current passes through the charge, the charge is heated to cause it to melt.
The intermediate frequency electric furnace uses the intermediate frequency power source to establish an intermediate frequency magnetic field, so that the induced eddy current inside the ferromagnetic material generates heat and reaches the purpose of heating the material. The medium frequency electric furnace adopts 200-2500Hz intermediate frequency power supply for induction heating, s
melting
and heat preservation. The medium frequency electric furnace is mainly used for melting carbon steel, alloy steel, special steel, and can also be used for melting and warming of non-ferrous metals such as copper and aluminum. The equipment is small in size and weight. Light, high efficiency, low power consumption, fast melting and heating, easy control of furnace temperature and high production efficiency.
3, Guangdong Dongguan medium frequency furnace manufacturer
Dongguan Haituo Electromechanical Equipment Co., Ltd. is a manufacturer of medium and high frequency induction heating equipment developed earlier in China. It is a high-tech private enterprise specializing in R&D, design, manufacturing, sales and service. enterprise. Because of the professional, it has excellent technical research and development team, rich experience, customized automatic induction heating equipment according to the workpiece and process, free to provide customers with personalized process solutions. As well as a comprehensive after-sales service system in various parts of the country, we have won the trust of many famous domestic enterprises, and have the experience of providing quality products and services to them. Welcome to visit the company.
Haituo Electromechanical has developed and manufactured all-row induction heating equipment: high frequency
heating machine
, high frequency
welding
machine, high frequency
quenching equipment
, medium frequency furnace, medium frequency melting furnace, ultra high frequency induction heating machine, super audio induction heating equipment and matching
Medium frequency forging furnace
, automatic CNC
quenching
machine, chiller and related equipment, widely used in metal processing industry, such as metal preheating, high frequency welding (
brazing
), diathermy forming, quenching, annealing, melting, thermal Equivalent process