Forging furnace
s are often used in the metallurgical industry or in the production of some hardware mechanical parts. Nowadays, the range of forging furnaces is wider in every industry. The performance of forging furnaces is very stable and safe, so it has been very popular. Welcome, Haituo Electromechanical introduced the characteristics of Guangdong medium frequency forging furnace equipment.
First, forging heating furnace
In the metallurgical industry, a furnace is a device (industrial furnace) that heats a material or workpiece (typically a metal) to a forging temperature.
Forging heating furnaces are used in many industries such as petroleum, chemical, metallurgy, machinery, heat treatment, surface treatment, building materials, electronics, materials, light industry, daily chemical, pharmaceutical and so on.
● Suitable for heat penetration of copper rods, iron rods and aluminum rods;
● Continuous heat transfer of round bars, squares or other shapes of wool and other materials;
● The whole material can be heated or partially heated, such as end heating, heating in the middle part, etc.
Hot forging: mainly for the shape of the workpiece after heating to a certain temperature, forging the workpiece into a punch, a forged bed or other form
Others such as: case, watch embryo, handle, mold attachment, zero-mouth, copper lock, rivet, steel kitchen utensils, crafts, standard parts,
brazing
tools, etc. hot forging fasteners, mechanical parts processing heat Forging heat treatment.
Forging furnace
Second, the characteristics of forging furnace equipment
1, using German Siemens IGBT power tube and unique inverter technology
2. The power time of the heating and holding process can be adjusted to improve the quality of heating and the repeatability of heating, and simplify the operation technology of workers.
3, the installation is simple, connect the three-phase 380V power supply into the water to complete.
4, the land occupation is very small, the operation is simple, can learn to be particularly safe in a few minutes, the output voltage is lower than 36V, eliminating the danger of high voltage electric shock.
5, no open fire, more secure. Use overcurrent to generate electromagnetic induction, heating only any metal.
6, the heating efficiency of more than 90%, than the high-frequency intermediate frequency power saving 30-40%, almost no electricity in the shutdown state. And can be used continuously for 24 hours
7, 满负荷 load continuation rate, can be carried out under the heating condition of 24 hours maximum power.
8, the induction ring can be freely disassembled, easy to replace. The ultra-fast heating speed greatly reduces the oxidative deformation of the workpiece.
9, with constant power and constant current control function, the maximum efficient and rapid heating, optimize the heating process of metal workpieces.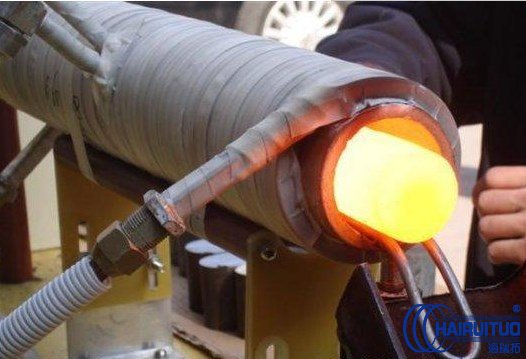 The medium frequency induction heating forging furnace is ultra-small, movable and covers an area of ​​only 0.6 square meters, which is convenient for use with any equipment;
It is very convenient to install, debug and operate.
It can reach the required temperature in a very short time, greatly reducing the oxidation of the metal;
The medium frequency heats the φ15 or more bar material, which is more diathery, more uniform, faster, and can work 24 hours a day;
Energy-saving and environmental protection, more uniform and rapid heat transfer, automatic feeding, greatly saving costs;
The furnace body is replaced to meet the different requirements of the overall heating or end heating of the bar.
Third, China's Dongguan, Guangdong, Haituo forging furnace
Dongguan Haituo Electromechanical Equipment Co., Ltd. aims to save money by saving energy, high efficiency and environmentally friendly induction heating equipment for users. It focuses on R&D, production and process application of induction heating equipment. As of September 2019, we have developed and manufactured The full-line high-frequency induction heating equipment includes: high-frequency
heating machine
, high-frequency
welding
machine, high-frequency
quenching equipment
, intermediate frequency furnace, medium frequency
melting
furnace, ultra-high frequency induction heating machine, super-audio induction heating equipment and supporting medium-frequency through-heat forging Furnace, CNC
quenching
machine, chiller and related equipment, widely used in metal processing industry, such as metal preheating, high frequency welding (brazing), diathermy forming, quenching, annealing, smelting, thermal filling and other processes
Dongguan Haituo Electromechanical Equipment Co., Ltd. is a manufacturer of medium and high frequency induction heating equipment developed earlier in China. It is a high-tech private enterprise specializing in R&D, design, manufacturing, sales and service. enterprise. Because of the professional, it has excellent technical research and development team, rich experience, customized automatic induction heating equipment according to the workpiece and process, free to provide customers with personalized process solutions. As well as a comprehensive after-sales service system in various parts of the country, we have won the trust of many famous domestic enterprises, and have the experience of providing quality products and services to them. Welcome to visit the company.